The new identification for vehicles and motorcycles goes into effect at Mercosur level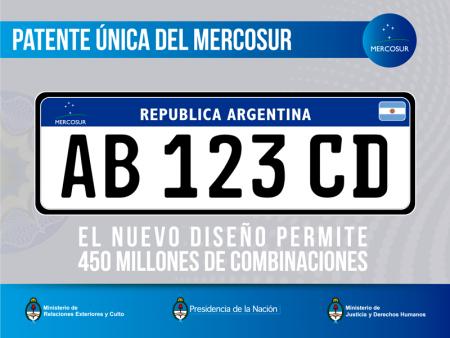 Since April 1 2016 the Mercosur License Plate goes into effect for all the brand new cars and motorcycles.
The new plate will be delivered once the available stock of the previous model is exhausted in each District Registries.
The new plates are also going to be used in Brazil, Uruguay, Paraguay and Venezuela.
It is going to have seven characters composed of letters and numbers. The cars have two letters, three numbers and other two letters (for example "AA 000 AA"), enabling a total of 450 millions of combinations.
It is going to have the identification with name and flag of each country.
It is going to be of a unique size, with the Mercosur block's official emblem and common safety measures.
It is going to be a symbol of the unification and reached integration among the Latin American countries.
Source: DNRPA (National Registry of Motor Vehicles and Chattel Mortgages)