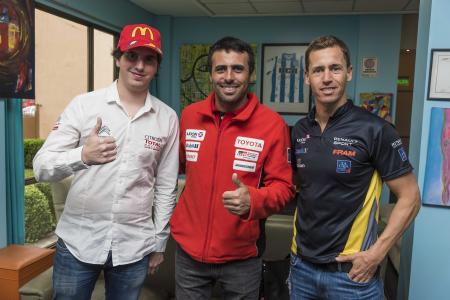 Within the framework of the CSR (corporate social responsibility) programs and previously to the 200 Km of Buenos Aires, members of the Super TC2000 teams of the terminals grouped in ADEFA visited the "Casa Garrahan".
ADEFA has recently donated equipment for the Urology service of the J. P Garrahan Pediatric Hospital and to continue with different actions, the drivers visited the hospital house which accommodates kids who should undergo treatment and who live over 100 km from CABA.
In the afternoon of September 26, among gifts from the participating terminals and ADEFA, the drivers Gabriel Ponce de León from the Toyota Gazoo Racing Argentina team; Leonel Pernía from Renault Sport and Martín Moggia from the Citroën Total Racing Súper TC2000 Team shared games and talks with the kids after a tour through the House together with the team of the Garrahan Foundation.
The "Casa Garrahan" was inaugurated on March 25, 1997 to provide a home for kids, together with their mothers, who live more than 100 kilometers from the City of Buenos Aires and who receive treatment in the hospitals Elizalde, Garrahan or Gutiérrez, while they undergo ambulatory treatments or while they wait for the diagnosis of complex diseases which do not require hospitalization.
The "Home away from home", with the work of a team of professionals, assistants and volunteers, has already provided lodging for more than 19,500 kids. It has 46 rooms with private bathroom for each family group, spacious kitchen, living room, games and computers, library, laundry room and playgrounds.