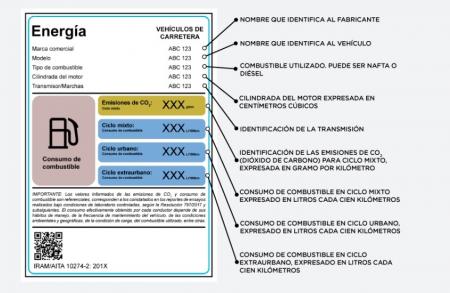 Since June, at least 15% of the cars placed on the local market must have an energy efficiency label with information on fuel consumption (liters consumed every 100 km distance travelled) and CO2 emissions (in grams per kilometer traveled).
This initiative, which aims to provide users with useful information about fuel economy and environmental care, was realized thanks to a joint work carried out by the Association of Automotive Makers, the Energy Secretariat of the Finance Ministry and the Environment and Sustainable Development Secretariat.
Through Resolution 85/2018 of the Environment and Sustainable Development Secretariat and IRAM-Aita 10274 standard it is established that the reached vehicles, that is. that must have the labelling are light cars (up to 3,500 kg).
For ADEFA and the associated terminals "it is of vital importance to promote energy efficiency, an action that helps minimize not only the impact on the environment by reducing polluting emissions but also to optimize the use of the resource used in the generation of energy," stressed the president of ADEFA, Luis Fernando Peláez Gamboa, who said that the commitment is, thereafter, "to add more models until reaching, in June 2020, all the new vehicles marketed in the country."