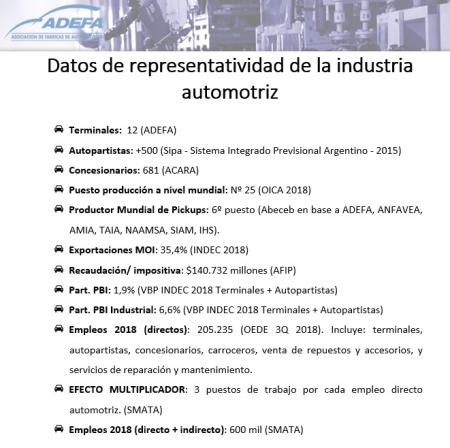 Within the framework of the search and implementation of policies which boost the automotive industry development and promote its performance as a whole, the automotive terminals grouped in ADEFA accompany the implementation of the new "0Km June Plan" to encourage the purchase of new units to the benefit of the customers.
The automotive sector, being one of the main drivers of the national economy, promotes the articulation of private public policies that foster its development in a comprehensive way, both in the domestic market and in its international insertion. Argentina's automotive industry is among the world's leading manufacturers and the entire local value chain comprises a nearly 8% stake in the industrial employment. Furthermore, it accounts for almost 40% of Argentinian industrial manufacturing exports (IM), as it makes up the country's second largest export complex, generating directly and indirectly 205 thousand job positions.
It is in this scenario where the implementation of the "0km June" plan for the conventional sale of new vehicles lies within. It consists of:
A discount of $50,000 per vehicle, for those whose sales price is equal to or less than $750,000.
A discount of $90,000, for those whose price is higher, excluding the vehicles reached by internal taxes.
(The models and versions that each terminal decided to incorporate into the plan can be found in the PDF attached to the note- right side of the page)
The Government will support companies through funds which will allow the costs of local production to be reduced while the automotive terminals together with their dealer network, besides providing the largest percentage of the above-mentioned bonuses, are undertaking the commitment not to increase the current prevailing prices until June during the plan period and the possibility of adding other measures and incentives for the benefit of the consumer.
In this regard, the president of the Association of Automotive Factories (ADEFA), Luis Fernando Peláez Gamboa, stressed that "in the current context of the sector it is important to have a plan for encouraging demand. While it is premature to estimate its result, we understand that it will generate a change of expectations and consequently a greater circulation along the sales rooms and it will improve volumes."
Similarly, he stressed the need to continue working together with the value chain on the generation of measures which improve competitiveness and enhance the access to external markets.
Press 06/05/19.