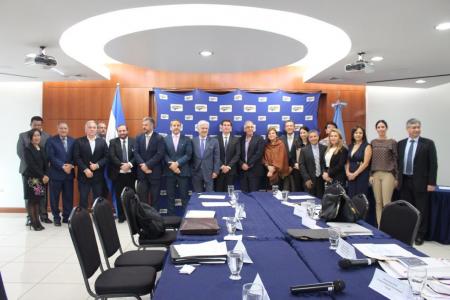 Within the framework of the XXVII Ibero-American Business Meeting, the Association of Automotive Makers (ADEFA) carried out a business mission with the goal of promoting bilateral trade with markets such as El Salvador, Honduras and Nicaragua.
In this context, the committee led by Fernando Rodríguez Canedo, Executive Director of ADEFA, Daniel Afione (Toyota), Patricio Sesti (VW) and Rodrigo Pérez Graziano (PSA) was accompanied by the Argentine ambassadors of the host countries, their working teams and officials who participated in the XXVII Business Meeting.
In order to improve the access to these markets for the vehicles of national production, the Association signed several agreements of cooperation and economic complementation. The first of these was sealed at the Argentine Embassy in El Salvador with representatives of the Salvadoran Association of Distributors of Vehicles (ASALVE).
Furthermore, in Honduras a cooperation agreement was initialled with the Honduran Association of Automotive Distributors and related (AHDIVA) and finally, in Guatemala, and prior to joining the Ibero-American Business Meeting, the committee held meetings with the private counterparts and with the country's Vice Minister of Economy, Julio Dougherty.
During The summit, discussions were held with the Secretary of Foreign Affairs, Daniel Raimondi and his team, to analyze the best way to reach an agreement, and for that purpose meetings will be scheduled in Buenos Aires to review what was signed and define next steps.