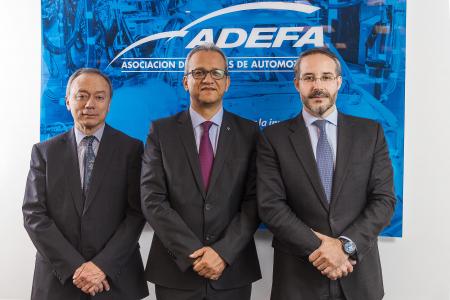 Luis Fernando Peláez Gamboa, president of Renault Argentina S.A., was elected president of the Association of Automotive Makers (ADEFA) for the period 2017/2018.
During ADEFA's Annual General Meeting, held today, the eleven presidents and representatives of the automotive terminals established in the country elected the members of its Executive Committee, which will be presided by the president and General Director of Renault Argentina.
Peláez Gamboa will be accompanied by César Luis Ramírez Rojas (president of Scania S.A.) in the vice-presidency and Rodrigo Pérez Graziano (Communications and External Relations Director of Peugeot Citroën Argentina S.A) as general secretary.
The board members of the Commission are: Joachim Maier (president of Mercedes-Benz Argentina S.A); Cristiano Rattazzi (president of FCA Argentina S.A.); Enrique Alemañy (president of Ford Argentina S.C.A.); Carlos Zarlenga (president of General Motors Argentina S.R.L.); Hideki Kamiyama (president of Honda Motor Argentina S.A); Marcus Cheistwer (president of Iveco Argentina S.A.); Daniel Herrero (president of Toyota Argentina S.A.); and Hernán Vázquez (president of Volkswagen Argentina S.A.);
During the meeting at ADEFA's head office, Peláez Gamboa highlighted that the aim in this new management will focus on continuing working on the agenda proposed in the association which aims to strengthen the competitiveness of the local automotive industry.
In that regard, the new president of ADEFA pointed that "it is necessary to continue working together with the Government and the value chain on generating the tools which contribute to the continuous improvement in the competitiveness, which generate a greater opening of new markets, and which deepen the strategic commercial and industrial relationship with Brazil, among other included and consensual topics in the 1 Million Plan which we subscribed to last March".
"From ADEFA we are very positive about the reform proposals recently announced by the national Government. These are key issues, as the changes in the tax and labor system, both with real impact on the sustained development of the country, encouraging new investments and creating conditions for a rise in quality employment", added Luis Fernando Peláez Gamboa
Curriculum Vitae (CV):
Born in 1959 in Colombia, Luis Fernando Peláez Gamboa is a Mechanical Engineering graduated from the "Universidad Pontificia Bolivariana'. He also holds an MBA from the "Universidad EAFIT".
He joined the Renault Group in 1984 and had several positions in Renault-Sofasa Colombia and in Renault Brazil, where he was Program Director and Industrial Director for the American Region. In 2010 he was appointed General Director in Renault Colombia, a position he held until December 31, 2015.
Since 2016 he is the President and General Director of Renault Argentina. He is married and has two sons.
Press 11/02/2017