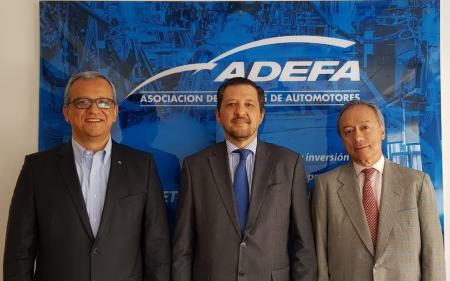 Hernán Vázquez, President of Volkswagen Argentina S.A.Group, was elected President of the Association of Automotive Makers (ADEFA) for the period 2018/2019.
During ADEFA's Annual General Meeting, held today, representatives of the Automotive terminals established in the country, approved the Annual Report and Balance for the last year exercise, the budget for the next period and elected the members of its Directive Commission which is chaired by the President and CEO of Volkswagen Argentina succeeding Luis Fernando Peláez Gamboa.
In the 2018/2019 exercise, Vázquez will be accompanied by Peláez Gamboa (President of Renault Argentina S.A.) in the Vice-presidency and César Luis Ramírez Rojas (President of Scania Argentina S.A.) as Secretary-General.
During the meeting at ADEFA's headquarters, Vázquez stressed that the aim in this new management will be focused on continuing working on the strengthening of the local automotive industry in response to the needs of all the associate companies in an equitable manner.
"We will give continuity to the sustainability work for the sector strengthening our relationship with the value chain integrated by the car parts manufacturers, car dealers and unions together with the Government to move forward in the implementation of measures that promote investment, employment, the continuous improvement of competitiveness and a greater international insertion, principles gathered in the 1 Million Plan", explained the executive.
CV
Hernán Vázquez has a degree in & Advertising and he joined the Volkswagen Group in 1987 and served in various roles until reaching the Management of Volkswagen Commercial Vehicles as member of the Executive Committee of Volkswagen Audi España.
In 2014 he took over the Post-Sales Management of Volkswagen Audi España. During his administration in the companies of the Group in Spain it is highlighted his participation in the growth and consolidation of Volkswagen Commercial Vehicles in Spain, as well as the transformation and digitization process of the post-sales of Volkswagen, Audi and Skoda.
On 1 June 2015 he was appointed Sales and Marketing Vice-president of Volkswagen Argentina Group, and on 1 November 2017 he took the position of President and CEO of Volkswagen Argentina. He is responsible for 2 factories (General Pacheco and Córdoba) and more than 5,400 employees.